Cryo Fat Freezing
You deserve to love your body from every angle.
If you've been struggling with diet and exercise and simply not seeing the results you deserve, this seriously 'cool' treatment can help you reshape your figure and shift stubborn fat from your stomach, hips, thighs, arms and back. The non-invasive process makes Cryo Fat Freezing a safer and quicker alternative to liposuction, with treatments requiring no anesthesia, no surgery, and no downtime.
Unlike other devices, Cryo can treat two areas at once, so you can walk-in and walk-out in just 45 minutes. Our experienced staff will assess your suitability for treatment during your complimentary consultation. We recommend a minimum of three treatments per area at 4-weekly intervals for best results.
Benefits
Eliminate stubborn fat
Cryo fat freezing can reduce stubborn fat by up to 25% per treatment in the treatment area.
Reshape "problem" areas
Perfect for those last pockets of fat that diet and exercise simply cannot move.
Treat two areas at once
Unlike other devices on the market, Our Cryo treats two areas at once for a more convenient, faster treatment.
No downtime
Cryo fat freezing is a walk-in walk-out procedure and clients can return to their normal routines the same day.
Comfortable
The treatment is quite comfortable and clients often bring a book or magazine to read during the session!
How it works
Reshape your figure with non-surgical liposuction.
Cryo Fat Freezing works by using vacuum suction and controlled temperature cooling to target and destroy fat cells by up to 25% per treatment in the treatment area. Towards the end of the treatment, the applicator also provides stimulation to the area via inbuilt massage technology.
This assists in lymphatic drainage to improve results. Once the cooling procedure is completed, fat cells are liberated into the lymphatic system and gradually eliminated by the body's natural metabolic process. Subcutaneous fat is sensitive to the cold freeze treatment, however normal body tissues are unaffected.  Expect to see results in just 12 weeks!
REAL RESULTS
You deserve real results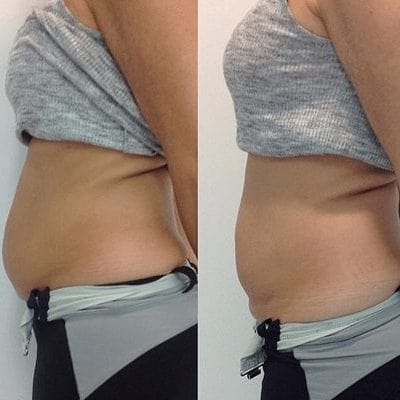 Add-ons
You have saved $0.00 so far
Book a free skin consultation – It's time to put your skin first.
Frequently asked questions
Cryo fat freezing is a comfortable treatment and you may wish to bring a book or magazine to read during your treatment! You will initially experience a burst of intense, localised coldness. This will subside within five to 15 minutes as the area becomes numb. Suction pressure caused by the vacuum applicators may result in pulling and/or pinching sensations and you may have a bruise in the area afterwards.
The body's natural rhythm can take 6-12 weeks to eliminate the broken-down fat cells. Progressive results will be seen 20-90 days post-treatment. Once the fat cells are destroyed they cannot return. Each treatment destroys 20-25% of fat cells within the treatment area, additional treatments may be required.
It's an age-old question: how does the body eliminate fat? With Cryo fat freezing, the treated fat cells are crystalised during treatment and then die off, naturally being processed and removed by the body's lymphatic system.
Unlike other fat-freezing machines, Cryo fat freezing is unique at Australian Skin Clinics with its dual-paddle action system, allowing two body areas to be treated at once. There are seven major treatment areas including the abdomen, flanks, love handles (hips), bra-bulges, back fat, inner and outer thighs and buttocks.
If you are pregnant or suffer from cryoglobulinemia, cold agglutinin disease, or paroxysmal cold hemoglobinuria, you are not eligible to receive Cryo fat freezing treatments. It should be noted that Cryo fat freezing treatments should not be used as a weight-loss solution, and is not a treatment for obesity.
Each individual will respond to the treatment differently, and therefore no clinic should or can claim to offer a 100% success rate in non-surgical fat reduction. Many clients see results after just one treatment, however, your treatment plan may include more than one session. For best results, two to three treatments are recommended for each target area. Your technician will work with you to tailor a plan to your needs and optimise results where possible.
Our Clinic Locations
At Australian Skin Clinics we provide FREE Consultations for all our services in all our state of the art clinics

Join the Bluvement
Discover the latest news on skin tips, trends and more.