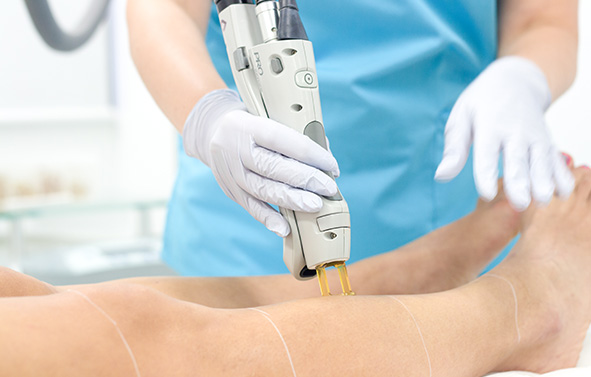 Laser Hair Removal Treatment: Give unwanted or excessive hair the flick
No more painful wax appointments or battling with your razor! Laser hair removal is your fast, effective and affordable solution to reducing unwanted or excessive hair.
At Australian Skin Clinics, our qualified laser technicians can safely treat all skin phototypes, using our medical-grade Candela Gentle YAG and Gentle PRO lasers.
Say goodbye to unwanted hair, reduce the chances of shaving rash and ingrown hairs with laser hair removal.
Benefits of Laser Hair Removal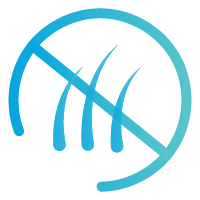 Permanent reduction in unwanted hair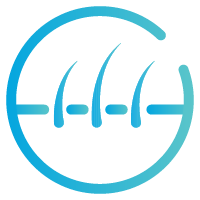 Reduce the chance of ingrown hairs & shaving rash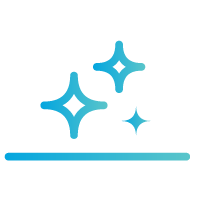 Achieve silky-smooth skin all year round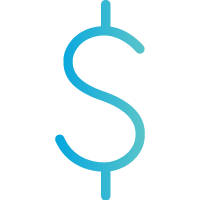 Fast & affordable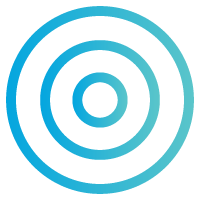 Safe & effective technology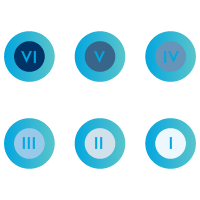 Suitable for all skin types
How it works
Laser hair removal uses a concentrated beam of light to target the damaged hair follicles. The pigment in your hair follicle absorbs the light and heat, damaging the follicle enough to discourage further hair growth and causing the hair to fall out.
In darker skin types, the laser energy targets the hair follicle's blood supply. With each treatment, the follicle is further impaired and will become unable to grow more hair.
Laser hair removal can only treat your hair during the growth phase, so complete course of treatments is required to see best results.
At Australian Skin Clinics, we provide fast & affordable laser hair removal treatments that help permanent reduction in unwanted hair and reduce the chance of ingrown hairs and shaving rash. Get in touch or book now for treatments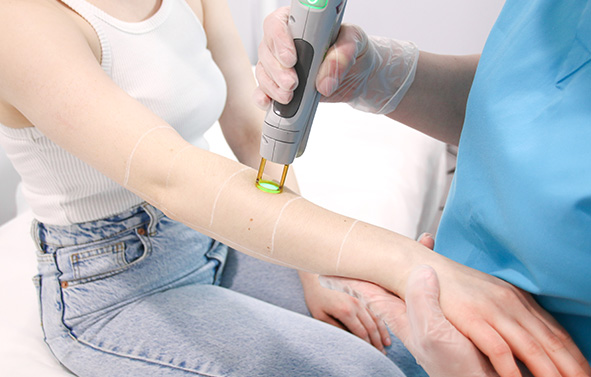 Optimise your results
For best results, we recommend an initial course of 6-12 treatments at monthly intervals. As you progress through your treatment plan, time between treatments may increase as hair re-growth reduces.
Ensure you are using SPF daily and if you want to take your silky-smooth skin to the next level, grab our Balense Post Laser Recovery Pack in-clinic.
Please note: For your safety, we cannot treat if there is fake tan in the treatment area on the day of treatment.
Recommended add-ons:
LASER HAIR REMOVAL BEFORE + AFTERS
real clients, real results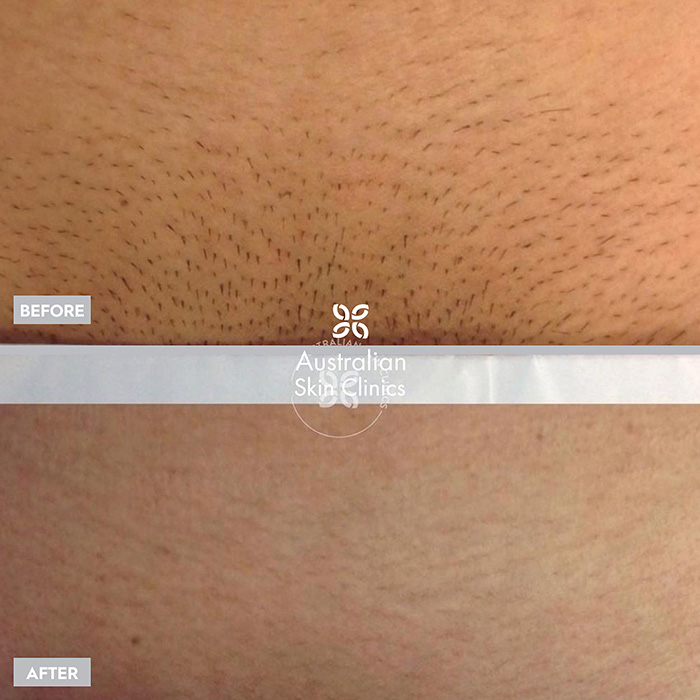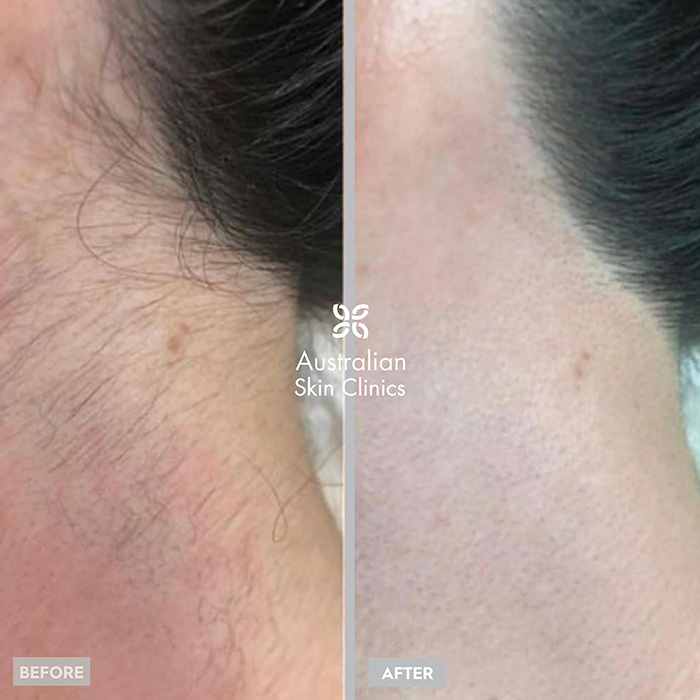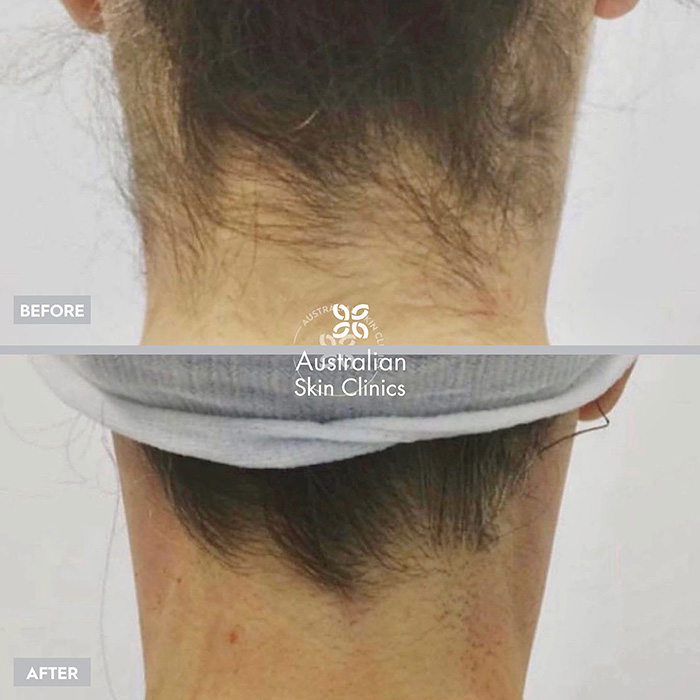 Laser Hair Removal Pricing
Add-ons
You have saved $0.00 so far
Pre + Post Treatment Care
During Treatment
During the laser hair removal treatment, you will feel slight pressure and a prickling sensation as the device moves across the treatment area. Treatment is fast, so any discomfort is short-lived and tolerable. Warmth and slight tingling are normal.
After Treatment
• 24 hours: mild to moderate erythema, mild swelling
• 1-2 days: mild erythema, mild itchiness, tight/dry sensation
• 2-3 days: mild skin flaking, dry sensation
• 3-4 days: slight dryness
• 4-7 days: full recovery
2 Weeks Prior
Avoid waxing and sunburn to the treatment area for 2 weeks prior.
Fitzpatrick IV+ skin types must be prepped on a tyrosinase inhibitor and SPF for a minimum of 2 weeks prior to minimise post-inflammatory hyperpigmentation.
24 Hours
Avoid heat induced activities, including:
• Steam rooms & saunas
• Swimming pools
• Excessive exercise
Day 1-3
Avoid active skincare ingredients. Use a gentle cleanser, hyaluronic acid, moisturiser and SPF.
Day 3+
Recommence active serums.
Day 7+
Recommence exfoliating skincare.
Book a free skin consultation – It's time to put your skin first.
Frequently asked questions
Laser hair removal has fast become one of the most effective options for permanent hair reduction. No laser clinic can claim 100% hair removal, as some hair will always strive to grow back. Re-growth can be affected by hormones and other biological factors which can vary from person to person.
Yes, a large percentage of our clientele are male and the most common areas treated are back, chest and arms.
Laser can decrease the chance of experiencing ingrown hairs. When there is no hair in the follicle, there is less chance of an ingrown hair occurring.
Laser hair removal achieves the best results for people with fairer skin and darker hair, however our laser technology and laser preparation products allow us to treat a variety of skin and hair types. Laser hair removal is not suited to blonde, red, grey or white hair. Your technician will be able to assess your hair during a free consultation.
The laser specifically targets the pigment within the hair follicle. Consequently, it is important not to affect the skin's pigmentation before or after your laser treatments. Sun exposure can increase the risk of adverse reaction including burning, blistering and post inflammatory hyper or hypo pigmentation in some cases these reactions can be permanent and prevent you from achieving your ideal results.
Please avoid sun exposure or solariums 2 – 4 weeks prior to your first treatment and continue to avoid exposure to the treatment area throughout your entire treatment plan. Be sure to also apply sunscreen hourly if you are exposed to direct sunlight.
It is also recommended not to use any form of artificial tanning products prior to your treatment, this includes fake tan sprays or lotions and bronzing powders or creams. As these products alter your natural skin colour, they must be completely removed from the treatment area prior to your appointment, otherwise your technician may advise you to postpone your treatment.
Clients with hormonal imbalances or Polycystic Ovarian Syndrome (PCOS) are recommended to consult an Endocrinologist for evaluation and possible medical treatment. These clients tend to have excess hair growth secondary to their medical condition and may find that they require both medical treatment as well as ongoing laser treatment, in order to achieve optimum results.
Our Clinic Locations
At Australian Skin Clinics we provide FREE Consultations for all our services in all our state of the art clinics

Join the Bluvement
Discover the latest news on skin tips, trends and more.