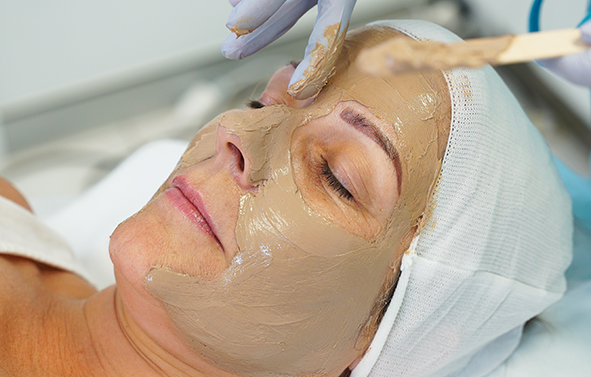 Reduce the appearance of pigmentation by up to 95%
As the world's leading professional depigmentation method, cosmelan® effectively reduces the dark spots caused by melanin, hyperpigmentation and ageing.
Cosmelan is a highly effective treatment for sun exposure, chemical peel, and sun spots. It works by inhibiting the production of melanin and reducing the appearance of dark spots, resulting in a more even skin tone.
Its exclusive formula has been demonstrated to achieve incredible results on over 1 million clients worldwide – proven effective on a range of pigmentation concerns in ALL skin phototypes!
If you're ready to reduce pigmentation, restore smoothness and return luminosity to your skin, ask us about the cosmelan® Method in-clinic today.
Book Now
Benefits of cosmelan®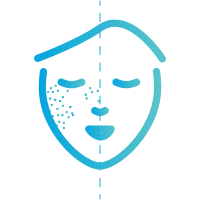 Reduce unwanted pigmentation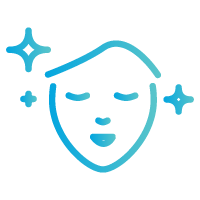 Restore skin luminosity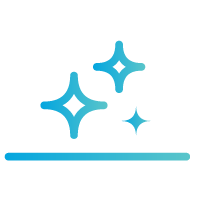 Smooth the skin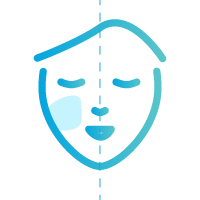 Treat melasma, PIH, liver spots & freckles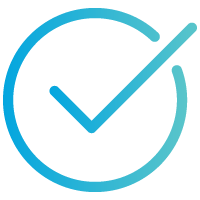 Proven & effective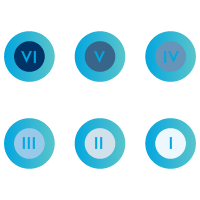 Suitable for all skin types
How it works
The cosmelan® Method uses a unique, two-fold action to treat and reduce pigmentation: corrective and regulatory.
Cosmelan's corrective action works by accelerating skin cell turnover at the surface, removing melanin accumulation and reducing the amount of melanin formed, which decreases the intensity of the spot.
Cosmelan's regulatory action targets the source of pigmentation by reducing melanin synthesis and blocking the transfer of melanin from the deeper layers to the skin's surface.
At Australian Skin Clinics, we offer 3 cosmelan® packages – Bronze, Silver and Gold. Each package comprises 4 weeks of skin preparation, in-clinic skin treatment and a dedicated at-home post treatment skincare program.
It can be used on the face, neck, chest, and hands. It is a safe and effective treatment that can be done in the comfort of your home.
Cosmelan treatment is the most effective solution for hyperpigmentation. Book your appointment now and get the skin you've always wanted!
Your cosmelan® journey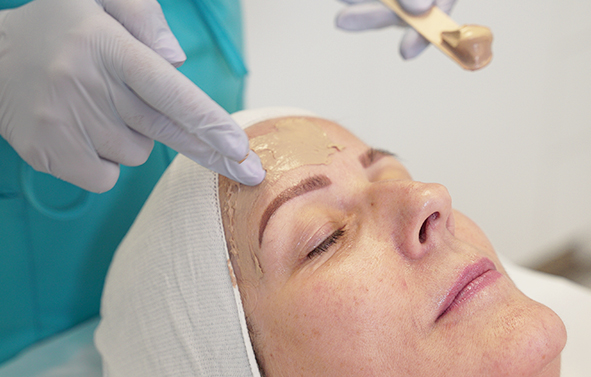 The cosmelan® mask will be applied in-clinic by your Australian Skin Clinics dermal technician and will need to remain on your skin for 8-12 hours before you can remove it at home. Relax at home for a few days and let cosmelan® do its magic.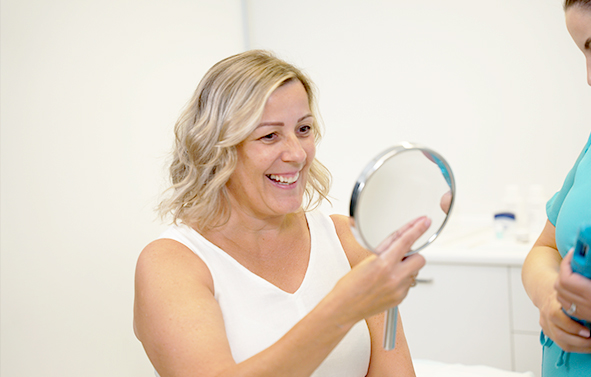 After your in-clinic treatment you'll follow an aftercare plan to ensure the best results for your skin. A detailed plan will be discussed during consultation and provided to you by your dermal technician.
COSMELAN® BEFORE + AFTERS
real clients, real results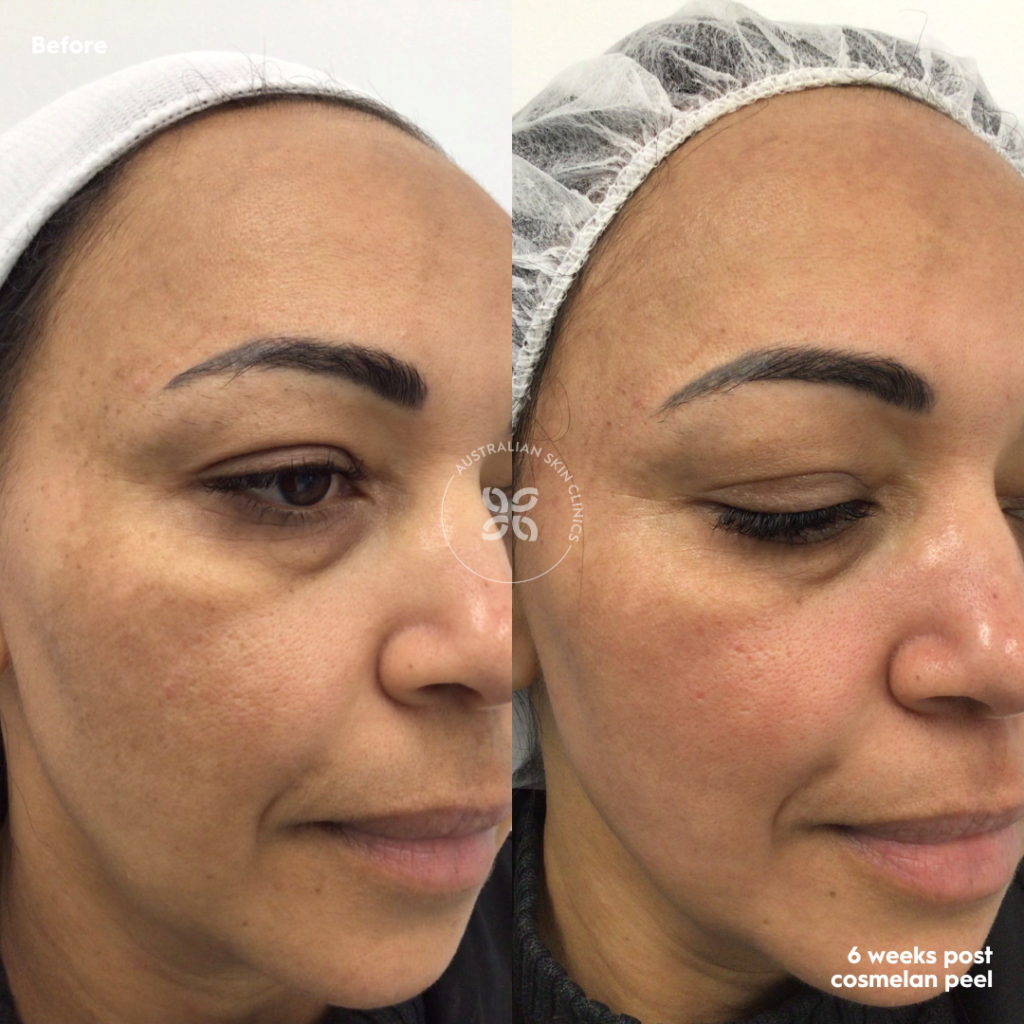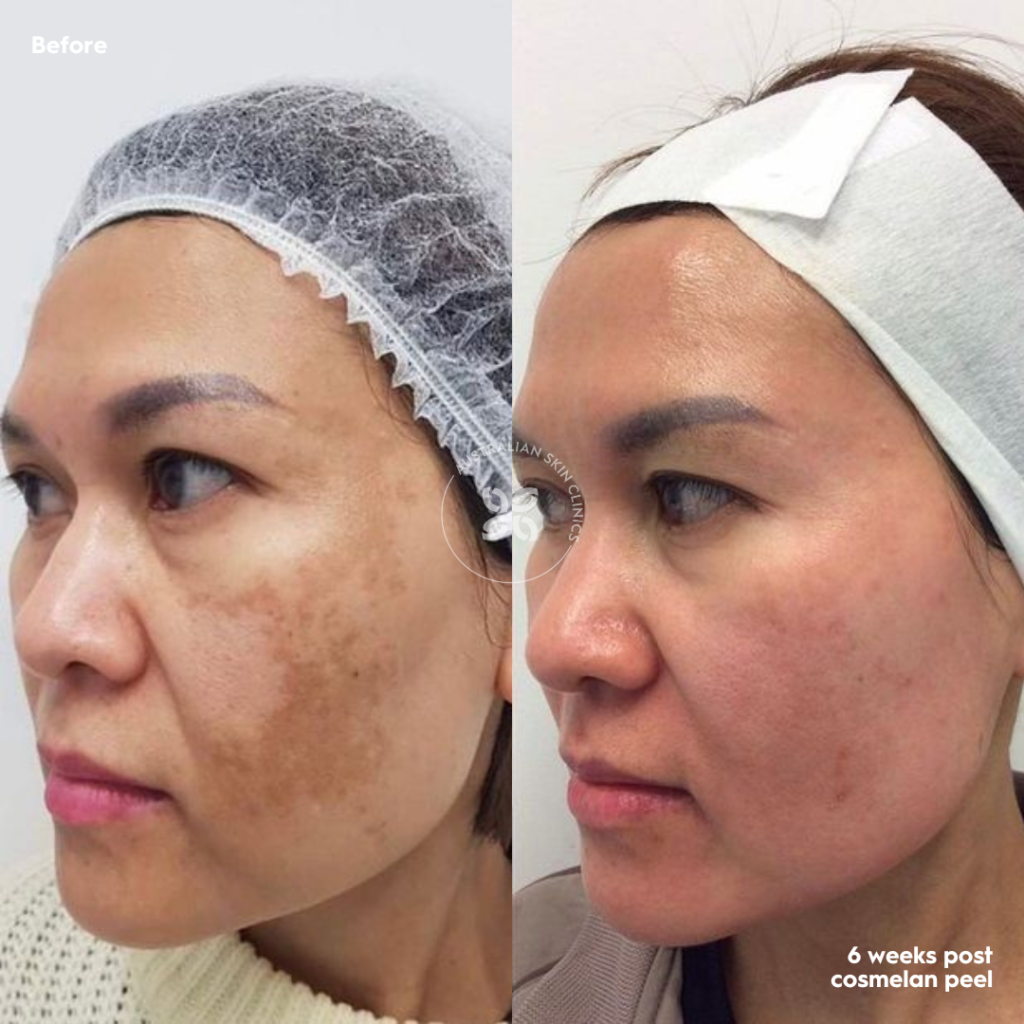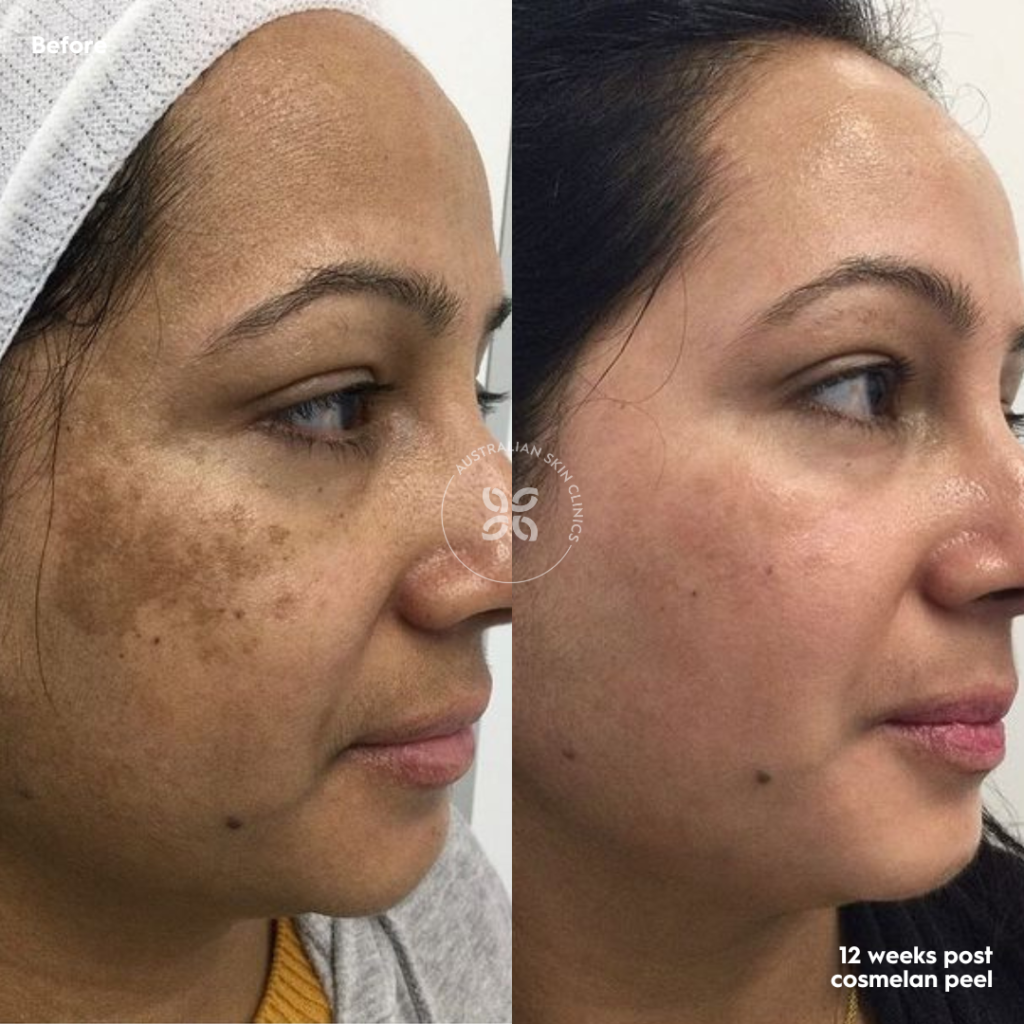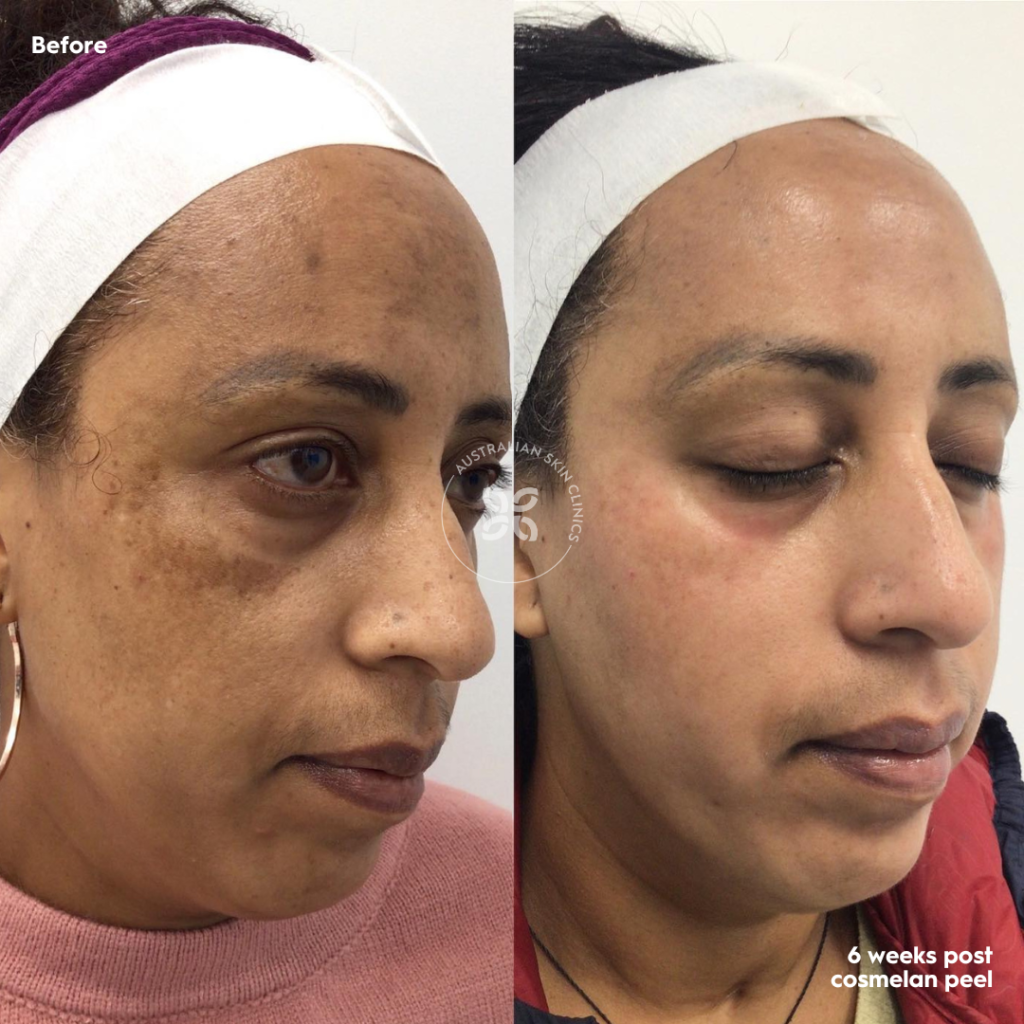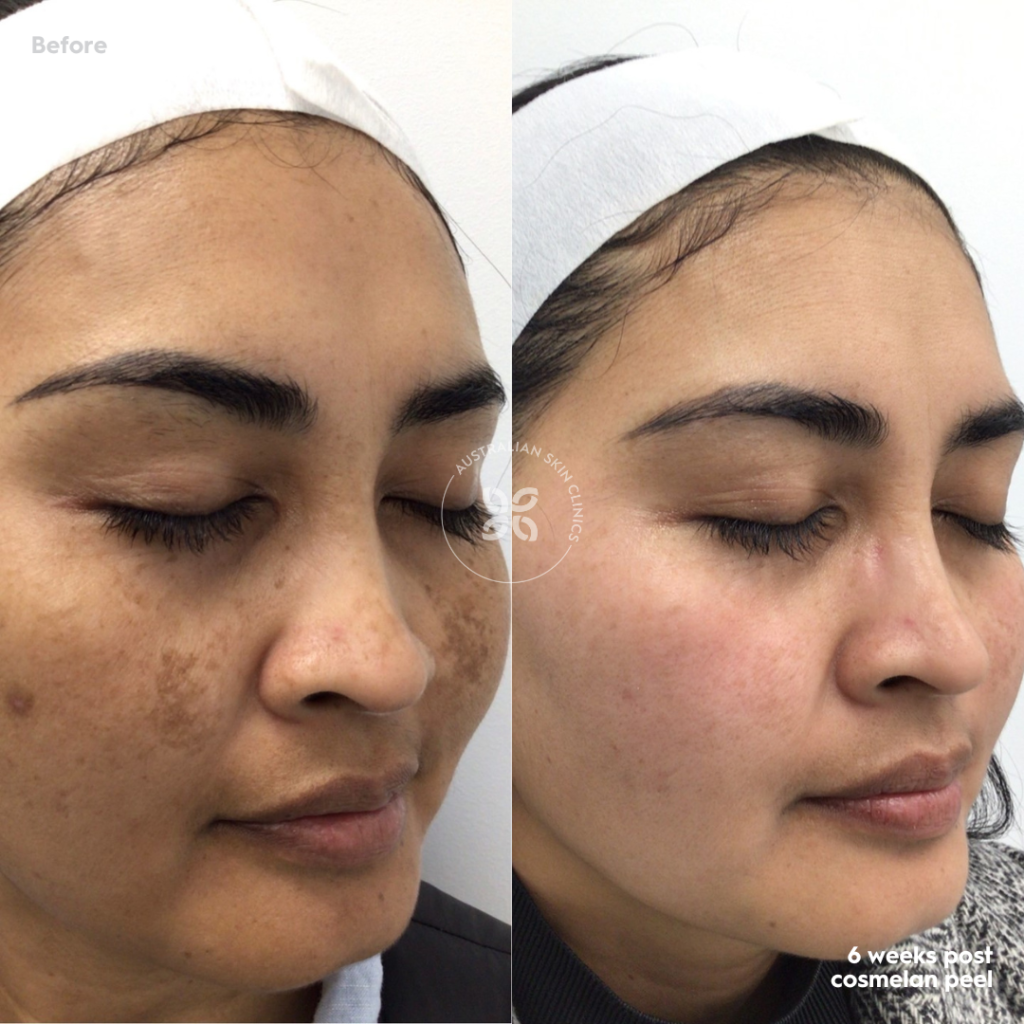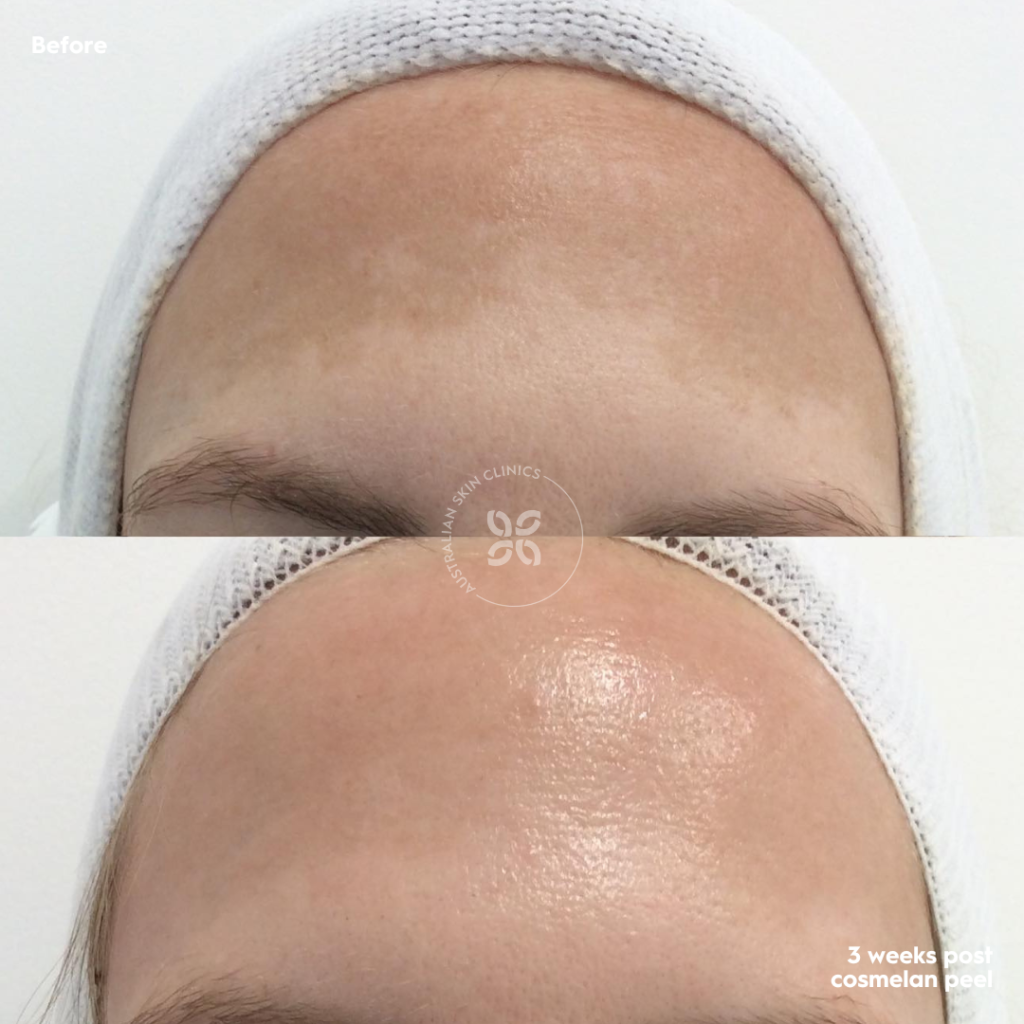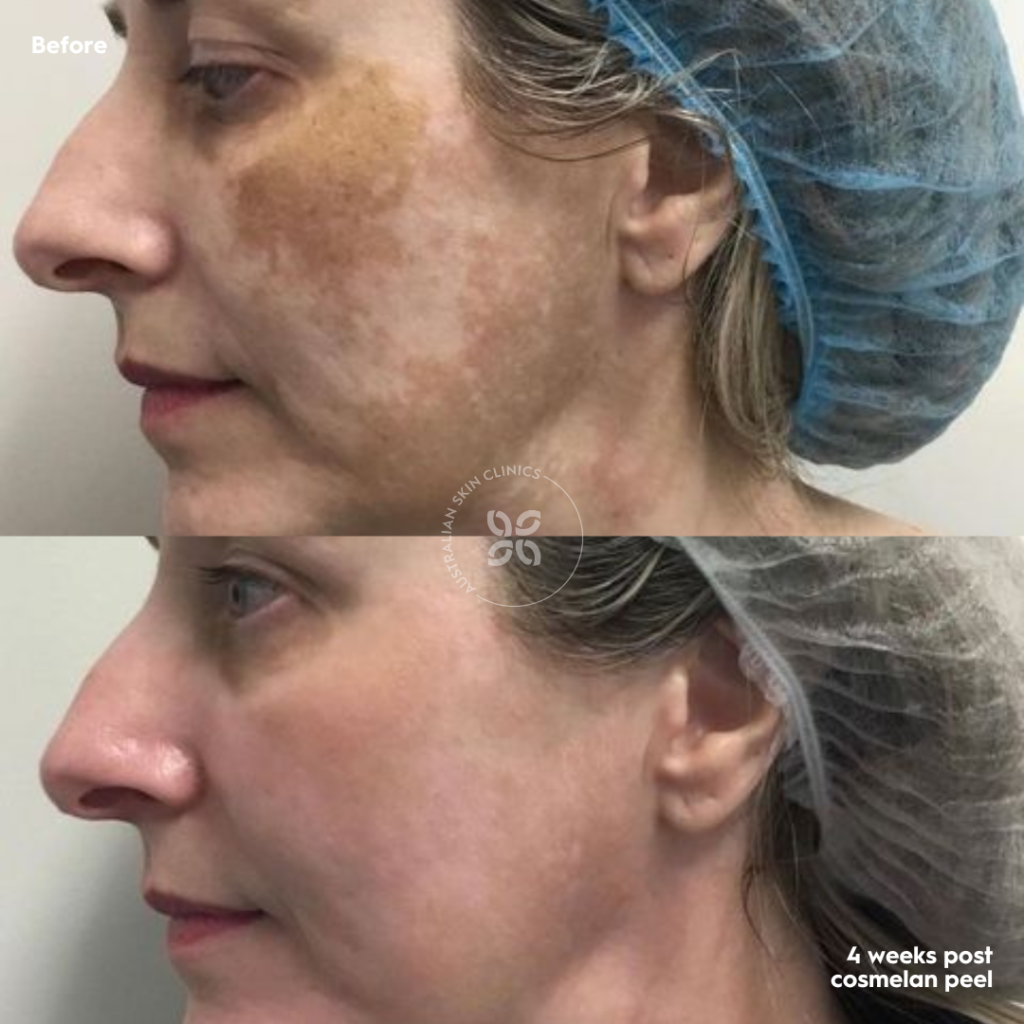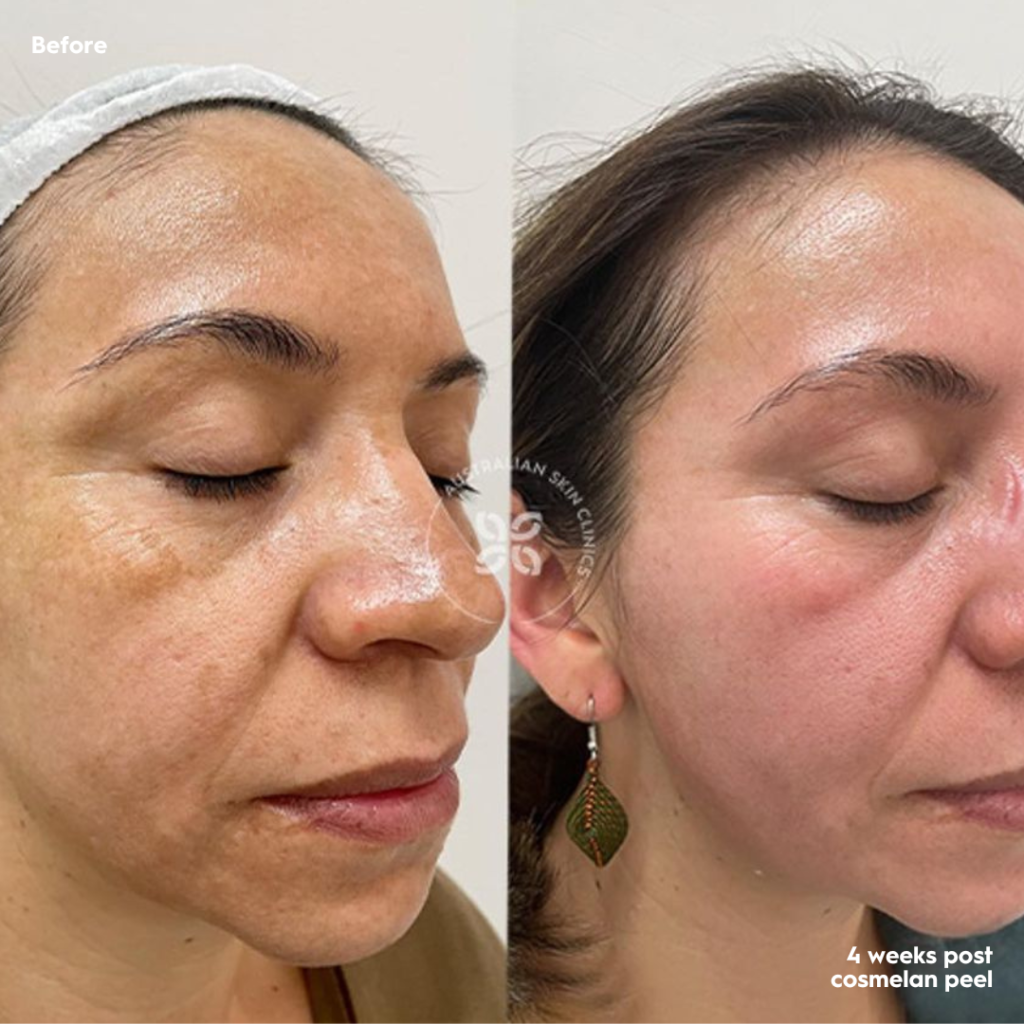 cosmelan® bronze
Cosmelan Bronze 4 x Visits
– Consultation
– Cosmelan Prep Product
– Cosmelan Treatment
– Cosmelan Homecare Range
– 72 Hour LED
– 3 month Review and Photos
---
$1499.98
cosmelan® silver
Cosmelan Silver 16 x Visits
– Consultation
– Cosmelan Prep Product
– Cosmelan Treatment
– Cosmelan Homecare Range
– 72 Hour LED
– 12x Weekly LED's
– 3 month Review and Photos
---
$1999.98
cosmelan® gold
Cosmelan Gold 18 x Visits
– Consultation
– Cosmelan Prep Product
– Prep Facial
– Cosmelan Treatment
– Cosmelan Homecare Range
– 72 Hour LED
– 12x Weekly LED's
– 3 month Review and Photos
– 4 month Recovery Facial
---
$2289.98
Pre + Post Treatment Care
During the treatment the skin will be prepped with an oil removing solution to allow even penetration of the peel. Tingling and a strong smell are expected.
The thick, clay coloured cosmelan® mask will be applied and must be left on at home for a period of 8-12 hours. The duration will be dependent on Fitzpatrick type and skin condition. Whilst the mask is on, a non-active water mist, will need to be used to keep the product moist (not wet) to ensure it does not dry out. This product can be purchased at most chemists.
Once the mask has been left on for the desired time, it will need to be completely but gently removed at home using room temperature water and fibrella wipes, these will be provided by the clinic. Once removed a small amount melan recovery is to be applied and allowed to dry before bed.
Immediately after removing your mask at home, moderate erythema and heat is to be expected.
Consultation
Before beginning your cosmelan® journey, you'll need to have a complimentary skin consult with one of our trained dermal technicians to assess this treatment is suitable for you.
4 weeks prior to treatment day
You will need to follow the recommended at-home skincare to prepare for the cosmelan® treatment.
Treatment Day
Mask remains on skin for 8-12 hrs.
After this time, remove the mask at home. Moderate erythema and heat to be expected.
24 Hours
Start your after care routine. Moderate erythema, strong heat and moderate swelling.
48 Hours
Strong erythema, moderate heat, swelling and itching, mild flaking.
72 Hours
Mild erythema and heat, strong itching and flaking.
Visit clinic for LED Light Therapy.
1-8 Weeks
Mild erythema, moderate itching and flaking.
Expect to purchase additional aftercare products. Recommended weekly LED treatments in clinic.
Book a free skin consultation – It's time to put your skin first.
Frequently asked questions
Yes. The cosmelan® method has a fast-acting depigmentation and gentle exfoliating effect and can be used on all skin phototypes from dark to fair.
You will begin to see improvement in your skin from the first or second week after your cosmelan® treatment. Following the provided at-home product application for the continuing 6 months will help you achieve optimal results and prevent the reappearance of spots.
The Australian Skin Clinics cosmelan® Pigmentation Program is a 7-month commitment to your skin! It starts with 4 weeks of skin at-home preparation, followed by the in-clinic application of the cosmelan® Mask (Peel) – which is a fast and effective 30 minute treatment. This is left on the skin for the required time (8-12 hours, as per skin phototype and instructed by your expert dermal technician) and removed at home. The remaining 6 months of your program is completed mostly within the comfort of your own home – with the exception of your LED Light Therapy treatment and any additional treatments you elect to have.
Only one round of the cosmelan® Pigmentation Program is required to see dramatic results in the reduction of unwanted pigmentation. Depending on the severity or underlying cause of pigmentation, further treatments can be performed 6-monthly to manage recurrence.
You can commence cosmetic injectable treatments in the face area 3 months post your in-clinic cosmelan® Mask (Peel).
Our Clinic Locations
At Australian Skin Clinics we provide FREE Consultations for all our services in all our state of the art clinics

Join the Bluvement
Discover the latest news on skin tips, trends and more.