For as long as I can remember, I have suffered from hormonal pigmentation above my upper lip. My pigmentation has always made me feel insecure and was something that no serum or skincare routine has been able to fix… until I tried cosmelan.
My regular skin technician informed me that cosmelan was the number one depigmenting peel for hormonal pigmentation. Once I saw the results of other Australian Skin Clinics clients, I knew I wanted to give it a try!
My initial cosmelan consultation was informative and while it left me hesitant about how my skin might respond, I was mainly looking forward to beginning my depigmentation journey. My dermal technician was honest about what to expect which I really appreciated. She explained that cosmelan is a comprehensive program that offers incredible results, but takes some dedication. The treatment is a seven-month commitment to the skin, starting with four weeks of at-home preparation, 8 – 12 hours wearing the cosmelan mask treatment after application and then six months of dedicated skin care and LED treatments.
cosmelan Pre-Treatment Preparation
For four weeks leading up to the cosmelan peel, I prepped my skin with the Mesoestetic Brightening Peel Booster each night alongside my Gentle Hydrating Cleanser, Brightening Moisturiser and UV defiance SPF 50+. I enjoyed that the preparation consisted of minimal products, making it easy to follow!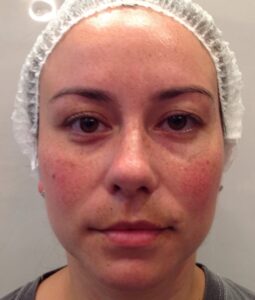 Treatment Day
On the day of the treatment, I was slightly nervous about leaving the cosmelan peel on for ten hours. I made sure not to book anything for the rest of the day so I could relax at home with the brown clay mask on my face.
The appointment was only 30 minutes and felt just like putting on a normal clay mask at home. During the appointment I was told to expect heat, stinging, and swelling when removing the mask. The things we do for beauty, right?
Leaving the appointment with the mask on my face was an odd experience. It was very hard not to touch my face for ten hours. When you know you can't touch the skin that's when you want to the most! Some areas dried quite quickly, especially around the mouth while others remained wet for longer. The experience was unique, and I had to drink out of a straw to minimise movement, preventing the mask from cracking and breaking off too much. I also kept spraying the Avene water spray to keep the mask damp and less tight.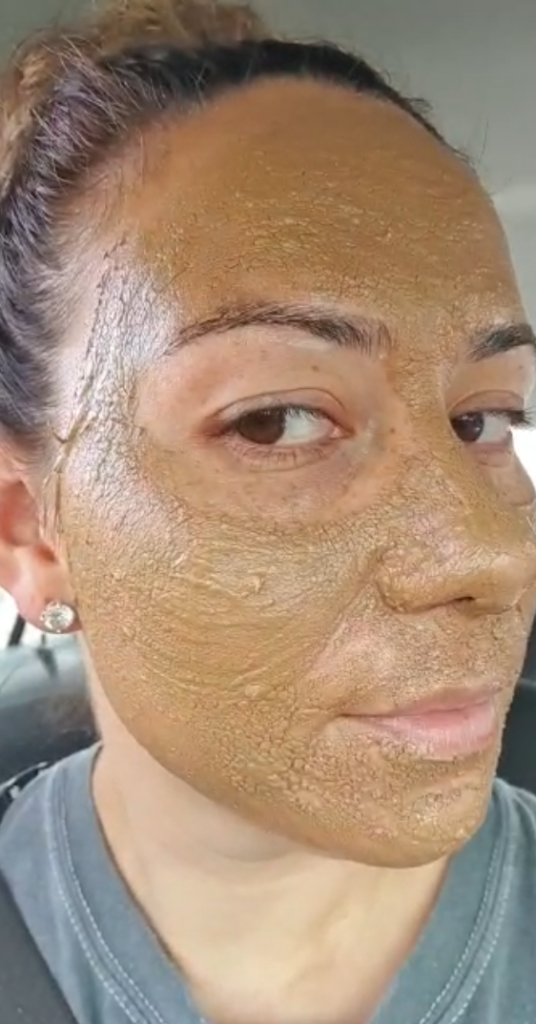 After 10 hours, I removed the cosmelan mask with wet cloths and Avene water spray provided by my therapist. With slow and gentle sweeping movements, my face was clean. Immediately, I could feel the heat radiating off my skin, and my face felt sensitive and tight. Looking in the mirror, my skin was very pink and swollen around my nose and mouth. It wasn't pretty, but the skincare nerd in me loved seeing the effects of the treatment so quickly.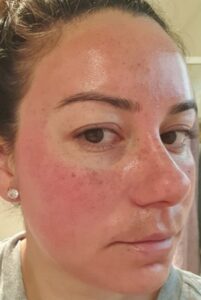 Post-treatment
The next day my skin looked like I had been sunburnt. The swelling around my nose and mouth was more prominent, and my skin felt tight and radiated some heat. When applying the homecare products I sat in front of a fan to settle the sensation. The third and fourth days after the treatment were the peak of my symptoms. I went into the Australian Skin Care clinic for an LED treatment and my skin was peeling and itchy and felt uncomfortable to touch. In my consult, my therapist advised that all the sensations I felt to this point were completely normal post-cosmelan which helped ease my mind.
Three days post-peel, I started using the second round of daily skincare morning and night. When applying it, I had a stinging feeling around my nose and mouth so I was careful and gentle with my product application. My therapist informed me that this is normal as the barrier of the skin is impaired and the products are activlty working to repair and rebuild.
At week one, my skin was pink, peeling and warm to the touch. The peeling hardly bothered me after I took comparison pictures and already noticed a significant reduction in my pigmentation. My freckles had reduced significantly, and my hormonal pigmentation (something I thought I would live with forever) was fading.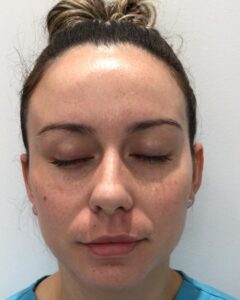 My skin took two weeks to heal and look better, but everyone's experience is unique. At this point, the swelling had subsided but I was still a little pink, and had some peeling around chin and mouth. I was still experiencing a slight itch in some areas, but the skincare no longer stung and my pigment had dramatically reduced.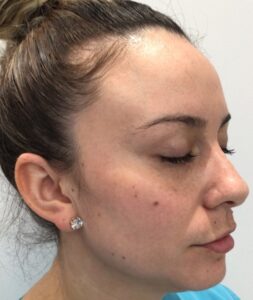 My skin still had a pink tinge at four weeks, but my freckles were almost gone! Six months later, the hormonal pigmentation I was concerned with on my upper lip disappeared at this point. My skin was much more hydrated and was no longer peeling. I also noticed that my skin looked youthful due to the peeling. I didn't expect to see the removal of years of damage to my skin and the rejuvenated, fresh skin. What a bonus!
The verdict?
Worth it! I 100% recommend the cosmelan treatment to anyone who suffers from pigmentation, melasma, sun damage and post-inflammatory hyperpigmentation.
I am now 16 months post-Cosmelan, and the hormonal pigmentation on my upper lip is gone. I feel so confident in my own skin. Yes, I still have freckles on my skin, but I am genetically predisposed to freckles. Plus, I love my freckles and wasn't looking to reduce them.
Cosmelan is not only an incredible depigmenting treatment but also a skin rejuvenation treatment. I noticed my enlarged pores had become less visible, and the texture had evened out so much, removing years of damage.
Completing the cosmelan program with my Australian Skin Clinics dermal technician made the whole experience so much easier. I had someone I trusted, that I could go to with any questions and it was great to speak with a professional and be reassured throughout the process. And I think my results speak for themselves.
Is pigmentation a concern for you? Book in for a free consult at Australian Skin Clinics today.