While most people think of 'laser' and 'hair removal' in the same sentence, laser treatments are also a very popular method of skin rejuvenation, particularly for the treatment of pigmentation. It is a fast, effective and relatively comfortable treatment which can be performed within your lunch break.
While it seems counter-intuitive that we can use lasers to rejuvenate the skin, the results really do speak for themselves. To ensure you are prepared, here is the low down on what you can expect after a laser for pigmentation treatment.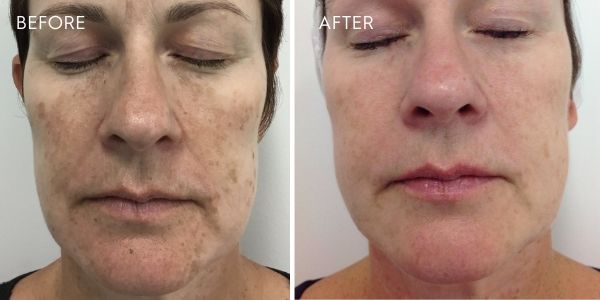 ---
Before laser for pigmentation

It is recommended that an active skincare regime is adopted a minimum of two weeks prior to treatment. Ask your Australian Skin Clinics dermal technician for further information.
Immediately after

Immediately post treatment you can expect to see some mild redness. You may also see some of your pigmentation spots (freckles) turn darker. This is normal and the pigment naturally shed off the skins surface within seven to 14 days depending on your skin cell turnover.
One hour after

The pigment will continue to darken for up to 24 hours. Mild redness may remain but mineral makeup can be applied to the treated area 24 hours post treatment to cover this.
The next day

The redness can be still present however will be greatly reduced. The pigmentation that has been treated will still appear darker.
What should happen to skin?

The laser will cause the pigmentation to shut down and this will result in the reduction of the appearance of the pigmentation once the pigmentation has shed from the skins surface.

What should NOT happen to skin?

With any laser treatments there are potential complications associated. Having a well-trained, knowledgeable and experienced laser technician like those at Australian Skin Clinics will reduce the risk of these from occurring. All Australian Skin Clinics laser technicians are trained to strict company policy and protocol to ensure the safe delivery of effective treatments on high quality medical grade lasers.
Are there any areas of the face you can't treat with laser?

At Australian Skin Clinics we do not treat within the eye area with a laser (under the eye and below the eyebrow). We also don't treat over the eyebrows, the inside of the nose and on the surface of the lips.
How long should you leave between appointments?

A minimum of four weeks, this is to allow a full skin cell turnover to occur so that the remaining pigmentation can be treated safely.
When will I see results and how long will they last?

Laser for pigmentation will require more than one treatment to achieve the desired results. We recommend a minimum of three treatments however this should be discussed with your technician prior to purchase. Pigmentation may return depending on the individual's lifestyle, environment, hormones and ongoing level of sun protection.
For more information on laser for pigmentation or our other laser rejuvenation services, contact your local Australian Skin Clinics or view our current promotion online!