We're sure you've heard the term 'beauty sleep', but did you know it's not just an old wive's tale?  There's actually a lot of research and truth behind it!
Here's why! While you sleep, some of the most important epidermal recovery takes place. Your skin's blood flow increases, you naturally stimulate new collagen growth, and your body works to repair itself by actively growing new skin cells to remove daytime damage caused from UV exposure, consequently reducing wrinkles and age spots.
Helping your skin with natural rejuvenation at night will make it more durable during the day. This is why your night-time skincare routine is so important.  If you want to wake up with firm, bright and glowing skin, it's recommended you implement a regular night-time ritual to cleanse, hydrate, and replenish!
Although everyone's skin is unique and there is no 'one size fits all' routine, we have asked our top skin experts here at Australian Skin Clinics for their tips on building the perfect night-time skincare ritual:
Step 1. Deep clean!
If you fall asleep without taking off your makeup or giving your skin a proper clean, you will likely wake up with dull, dry skin. We recommend you begin your night-time skin care routine by removing your makeup and washing your face with a facial cleanser that includes active ingredients, such as the Balense Hydrating Gentle Cleanser.

Step 2. Treat your skin concerns with a serum.
Tailor this step and choose a serum to target your personal skin concerns. For example, for dry skin, we would recommend applying a face serum that contains hyaluronic acid to help retain skin moisture and support hydration while you sleep. After you apply your serum, remember to moisturise! This is a crucial step in your night-time skincare routine as it provides your skin with essential nutrients to help repair damage.
Step 3. Apply an overnight mask.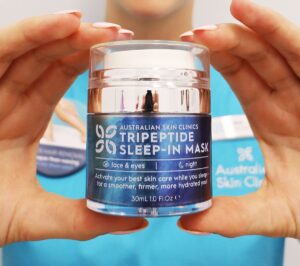 While you sleep, your skin will be able to best utilise your products and reap their benefits. 1-2 days a week, we recommend applying our Australian Skin Clinics Tripeptide Sleep-in Mask for face and eyes. We suggest not applying any moisturiser on these nights. Utilising the power of triple peptides, this mask will transform your skins overall health, hydration, and appearance. Specialised ingredients soak into the skin over 8-10 hours to help support cell regeneration and boost elasticity for smoother, firmer skin. It makes sleeping-in more appealing.
Step 4. Get your beauty sleep!
It may be easier said than done but getting between 7 & 9 hours sleep a night will help your skin regenerate faster.
You will be surprised how much getting a good night's sleep and using the right overnight skin products can do wonders for your skin!
Call Australian Skin Clinics now for your advanced complimentary skin consultation today or find your local clinic here.