Over the past year, many of us have made the swap from our usual in-salon professional beauty treatments to "do it yourself" at-home options. Some people have mastered DIY manicures, others have perfected dyeing their own hair… but what about laser hair removal? You may have seen an increase of new at-home laser hair removal devices entering the market all promising hair-free results, but do these machines really work? We have put together some pros and cons of investing in an at-home machine versus getting professional laser hair removal treatments in a clinic so you can evaluate what option will work the best for you.
How does laser hair removal work?
Laser hair removal offers you the luxury of silky-smooth and ready-for-anything skin all year round. Depending on your skin type, the laser aims a concentrated light and heat into your hair follicles. The pigment or blood supply within the hair will absorb the heat, therefore damaging the follicle enough to discourage further growth, with the hair eventually falling out. Professional laser hair removal treatments are tailored to eradicate hair from the chosen face and body areas and the sessions are fast, effective, affordable – and the reduction is permanent!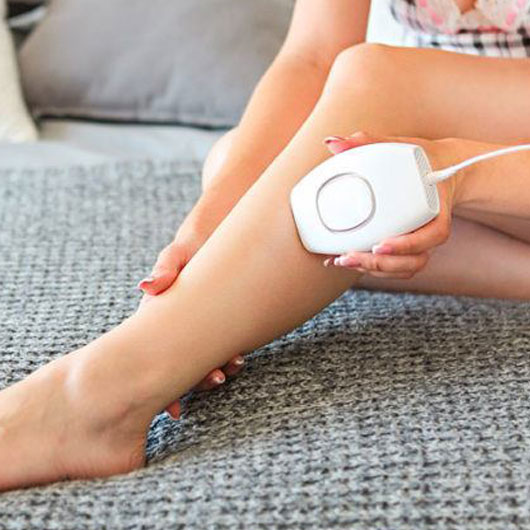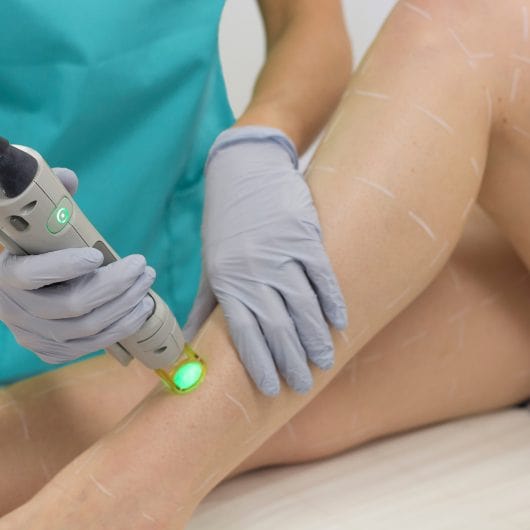 What are the pros and cons?
Safety:
Laser hair removal treatments in our clinics is performed by fully trained laser technicians who are laser safety certified under the strictest Australian law. Prior to treatment, clients undergo a consultation to check contraindications and discuss pre/post treatment care. The treatment is then performed under stringent safety and medical protocols, resulting in a low risk of injury or side effects. Unless you are a trained laser technician, it is difficult to determine whether an at-home hair removal device is suitable for your skin type, risking hyperpigmentation and burns if you are treating an area which is not suitable.
Results:
At Australian Skin Clinics our trained professionals can treat any skin tone from dark to fair using Class 4 medical-grade lasers. This advanced, globally recognised technology allows us to offer only proven and effective treatments, giving you quality, long-lasting hair reduction results after just a few sessions. Many DIY at-home laser hair removal devices are actually IPL (Intense Pulsated Light) with much lower wavelengths of energy. Lower wavelengths of energy have been linked to hair stimulation, meaning you might actually grow more hair, rather than less. Although this is the case, some of these devices may still deliver results that you can maintain at home, however it is best to use with caution.
Convenience:
The level of convenience all depends on your personal circumstances and perspectives. Laser hair removal performed in clinics require regular appointments to obtain best results. At Australian Skin Clinics we recommend 6-12 treatments at 4-weekly* intervals, plus maintenance. For some, attending these appointments may be a slight inconvenience, however once you are there the trained technician does all the hard work. At-home IPL devices will require more sessions overall, but you can do them whenever and wherever in the privacy of your own home.
So, why choose Australian Skin Clinics for Laser Hair Removal?
At Australian Skin Clinics, our qualified laser technicians hold the highest industry training and accreditations and can treat all skin types using fast and efficient globally recognised technology. Believing that everyone deserves to feel confident in their skin, our technicians strive to make sure every client experiences their treatment in a safe, welcoming environment. Appointments are never rushed to ensure consistent results, and you also benefit by earning up to 10% in every time you spend!
Laser Hair Removal is ideal for all women and men who want to permanently reduce excessive or unwanted hair from all areas on the face and body. So, if you're ready to ditch the razors and wax, visit your local Australian Skin Clinics for a complimentary consultation and start your journey to becoming silky-smooth, every day!